Home> Services> About Orthodontics
Orthodontics in Frederick, MD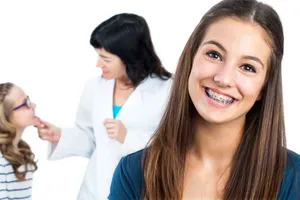 Orthodontics refers to a specialized branch of dentistry that corrects poor tooth positioning and improper jaw alignment. This treatment is used to correct both cosmetic issues and problems with chewing function. Genetics and growth rates of your oral structures contribute to alignment problems and crowding.

Our orthodontic specialists at PearlFection Dentistry in Frederick, MD will evaluate your jaw and tooth alignment by using the latest technology including comprehensive x-rays of your jaws and supporting structures. Your Frederick orthodontist will then formulate a treatment plan designed to correct your cosmetic and functional issues and provide you with your newly straight smile.
Issues That Can Be Corrected With Orthodontics Include:
Moving crowded or overlapped teeth to give you a cosmetically beautiful smile
Restoring good chewing function by correcting poor bite alignment
Closing gaps or spaces between teeth for a great smile
Positioning twisted or rotated teeth correctly to prevent excessive wear
Now, thanks to modern dental materials and techniques, orthodontists can offer a number of options to correct jaw issues and straighten your teeth.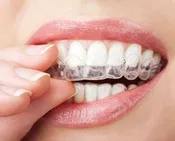 You can choose from:
Invisalign, the virtually invisible method of straightening your teeth; Invisalign uses clear plastic trays called aligners.
Conventional orthodontics using metal brackets and wires; (what most people associate with the term "braces.")
Conventional orthodontics, using tooth-colored or clear brackets and wires; for a less noticeable look.
Lingual braces, which are cemented to the tongue sides of your teeth for better aesthetics.
Call (301) 663-5550 today to schedule an orthodontic consultation at our Frederick, MD location.
Orthodontics and Dentofacial Orthopedics
There are nine specialties sanctioned by the American Dental Association, Orthodontics and Dentofacial Orthopedics is one of them. Many patients state during the treatment, " I'm going to my orthodontist today" but rarely do you hear someone say " I'm going to my dentofacial orthopedist." Several years ago the AAO changed the title of our specialty to be more encompassing.
An orthodontist and dentofacial orthopedics does more than just straightening teeth. We can influence the growth of the jaws. The word "ortho" comes from the Greek for "straight" or "correct," and "dontic" comes from the Greek meaning "teeth." The word dentofacial has its origin from Greece as well. The term "dentofacial" means "teeth" plus "face" while "ortho" again means "straight" and "pedic" is from the Greek for "child."
Orthodontics is the management of tooth movement and dentofacial orthopedics involves the guidance of facial growth and development. This growth occurs in largely in early childhood development thru the early teen years. Some growth still exists in late teen years. In either case, an orthodontist uses this growth and development to best treat the patient. Certain appliances like a headgear or expander are used during childhood developmental years. Sometimes orthopedic treatment may precede braces, like an expander, but other times the two are accomplished at the same time. So if your child has braces and a headgear, he or she is undergoing orthodontics and dentofacial orthopedics!
Interested in straightening your smile or fixing other orthodontic issues? Come see our specialists at PearlFection Dentistry! We offer a variety of treatments to suit your orthodontic needs. Call our Frederick, MD office at (301) 663-5550 to schedule a consultation or request an appointment below.
For our other location in Urbana, MD, call (301) 831-8303 .
Schedule an Appointment with PearlFection Dentistry
To request appointment availability, please fill out the form below. Our scheduling coordinator will contact you to confirm your appointment.