Home > Services > Dental Implants
Frederick, MD Dental Implants Center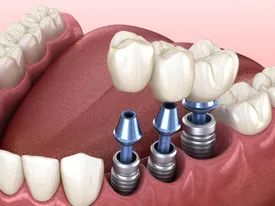 Dental implants are the revolutionary, state-of-the-art tooth replacement option that can save your smile. Here at PearlFection Dentistry, we use the latest techniques and technology to ensure your custom implants are of the highest quality and last a lifetime. Our implant specialists at our Frederick, MD implant center are all highly educated and trained so they can provide you with the top notch care and expertise you deserve, while delivering a seamless experience.
Dental implants can be used to replace one or more missing teeth. They can also provide a supportive framework for a full denture, which is snapped in place over the implants. This is referred to as implant supported dentures or "All-on-4".
Dental implants provide many benefits which are unmatched by traditional tooth replacement solutions like bridges, partials or dentures. The implants look completely natural, can last throughout your lifetime, and won't shift or slide around in your mouth like dentures can. Implants won't ever decay and have strong stain resistance. They can be cleaned by simple brushing and flossing, just like your natural teeth.
Dental Implant Procedure
The bottom part of the implant, which looks like a screw, is placed in your jaw during a simple in-office procedure at our Frederick, MD office. The screw is made of titanium, a material that is biocompatible, meaning your body won't reject it. Over a period of several months, your jaw will grow more bone to fuse with the dental implant. Once the implant screw is firmly embedded in your jaw and the tissue is fully healed, our dentist will place a natural-looking dental implant crown on top of the screw, completing the procedure. You now have a new tooth!
Implant Crowns - Frederick, MD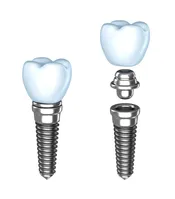 The difference between a regular crown and an implant crown lies in its structure and function. A regular crown is fitted over an existing tooth with a root structure that is still intact. This type of crown essentially serves as a cap and is made to fit over the existing tooth to cover damage or imperfections, or to protect a tooth that has had a root canal.
Implant crowns replace an entire tooth or multiple teeth, including the root, so they must be completely solid in structure. Unlike a dental crown that sits above the gumline and is cemented and bonded in place, an implant crown is attached by a screw to the implant itself that has been embedded into the jaw bone.
Dental implant crowns are made of light reflective materials that closely resemble natural tooth enamel. You brush and floss them just like natural teeth so they fit seamlessly into your regular oral care routine. Implant crowns will never decay and the crown material resists staining, so your implants will stay beautiful for years.
Benefits of Dental Implants
Unlike other dental restorations, implants are designed to be permanent. Once they have healed successfully, they are virtually indistinguishable from your natural teeth. Like natural teeth, they require meticulous oral hygiene, regular dental exams, and professional cleanings to help prevent infections and gum disease.
Implants are the only restoration that help to prevent bone loss in your gums. An implant can be used to replace a single tooth, or a set of dentures — with just a few implants! If you are in good overall health and have enough bone density, dental implants may be a good option for you.
Another important benefit of dental implants is that they help you retain the youthful fullness and contours of your face, especially your firm jawline. Your body produces more bone to fuse with the implant and the increased bone production fills out your facial contours. You won't have the sunken, sagging look of someone who wears dentures for a long time.
How Can Dental Implants Be Used?
Full Upper Replacement - The entire upper set of teeth is replaced with implants.
Full Lower Replacement - The entire lower set of teeth is replaced with implants.
Anterior Replacement - Implants are used to replace the front teeth (incisors and cuspids).
Posterior Replacement - Implants are used to replace the back teeth (bicuspids and molars).
Single Tooth Replacement - One tooth is replaced, and none of the other teeth are affected.
PearlFection Dentistry in Frederick, MD uses the most advanced technology available to provide dental implants that look and feel like natural teeth. Smile with confidence again!
Call our office today at (301) 663-5550 to schedule a consultation!
For our other location in Urbana, MD, call (301) 831-8303 .
Request a Dentist Appointment in Frederick MD
To request appointment availability, please fill out the form below. Our scheduling coordinator will contact you to confirm your appointment.