Emergency Dental Care In Frederick, MD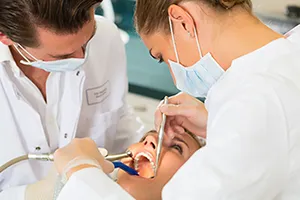 If you've just lost a permanent tooth in a car accident or due to a sports injury, or you have throbbing jaw pain, know that the best thing you can do is get yourself to an emergency dentist in Frederick. Why suffer in silence and make matters worse when most dental emergencies should and can be treated immediately? In fact, waiting to seek emergency dental care can make the issue worse.
It is always best to call your emergency dentist in Frederick if you are experiencing any of these dental emergencies:
Dental Pain
If you've noticed pain in your tooth or gums and it hasn't let up, it might be time to have it checked out. Pain is the body's way of telling you that something just isn't right. Listen to it!
Dental Trauma
If an event has left you with a loosened, chipped, or even missing tooth, then it's time to get yourself to your Frederick emergency dentist right away. The longer you wait the worse it could get. Sometimes we can save teeth if we act quickly.
Lost Filling or Crown
Sometimes this can happen while eating. If this does occur, call us right away. The fact that the crown came loose could mean that the tooth structure underneath is decaying. We want to make sure we treat this problem as soon as possible to avoid further complications, including the need to extract the tooth or have a root canal.
Swollen Face or Jaw
This is probably the dental emergency that is most concerning and should never be ignored. There could be several reasons for a swollen face or jaw, including an infection. Better safe than sorry. If you're noticing a swollen or painful jaw, it's best to come in for an emergency appointment in Frederick at the very first sign of distress. A swollen face or jaw is nothing to joke about. Infections in the head can lead to serious medical issues, including death, and should never be ignored. Seek immediate dental care.
Seek Emergency Dental Care Now
If you are experiencing any of these serious issues, don't wait to have it fixed. PearlFection Dentistry in Frederick, MD can provide you with the emergency dental care you need. Let us handle your issues and calm your nerves. Call us right now at (301) 663-5550 .
If you've taken advantage of our emergency services in Frederick, MD before, let us know what you thought. We love making sure our patients feel comfortable and relaxed because after all, you are our number one priority!
If you have experienced a dental injury and are in need of emergency dental care, call PearlFection Dentistry in Frederick, MD at (301) 663-5550 today. Get the prompt care you need!
For our other location in Urbana, MD, call (301) 831-8303 .