Pediatric Dentistry Services
Dentists for Toddlers, Children, Teens & Adults
Dr EJ Stringer, DMD & the entire team at PearlFection Dentistry, care for patients throughout their lives. From pediatric dental care to geriatric dental care, we offer it all right here in our Frederick and Urbana dental offices. Our goal is that from infancy to golden years, all of your dental needs can be met in one comfortable setting with the best dentists Frederick has to offer.
Pediatric Dental Care Begins Early
We recommend bringing in children for their first dental appointment around their first birthday. This first dental appointment is a fun, get acquainted visit so child and parent get used to the sights and sounds of pediatric dentistry.
At age 3, we will perform a comprehensive oral exam, checking for decay, gum disease and tooth and jaw development. We advise 6-month cleanings and visits for all children and adults to detect any oral health problems before they become costly and complicated.
The Particulars of Pediatric Dentistry
Parental involvement in kids' oral health helps prevent tooth decay--the number one chronic health problem in American children. The staff at PearlFection Dentistry in Frederick, MD teaches kids and parents that mom and dad must brush toddlers' teeth for them and supervise kids at least up to the age of 8. Twice daily brushing with a soft-bristled brush and a small amount of fluoride toothpaste is the rule, and parents must realize that young children do not have the dexterity to brush and floss by themselves.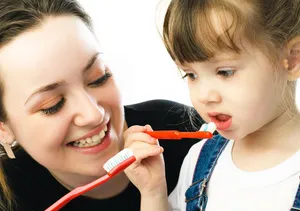 Our staff also stresses nutritious, low-sugar diets and drinking plenty of water to wash tooth surfaces and promote the production of saliva. Saliva keeps teeth and gums clean--important in between meals and during the night.
Additionally, the pediatric dentist often recommends fluoride treatments and sealants for young teeth--particularly molars that have intricately-grooved chewing surfaces. These simple "painted-on" dental materials quickly and comfortably provide protection against decay, and for adults, fluoride reduces dental sensitivity.
The American Academy of Pediatric Dentistry advises that any decay found in children's teeth be treated. The health and development of baby teeth impact how their adult teeth look, function, and erupt into the mouth. Furthermore, it's wise for children to receive a complete orthodontic evaluation by age 7. Early orthodontic treatment wards off problems from crooked teeth later on in life--decay, gum disease, and self-image issues specifically. Early intervention takes advantage of the developing jaw, making treatment easier and less complex than older teen or adult treatment.
Meet Our Frederick, MD Pediatric Dentists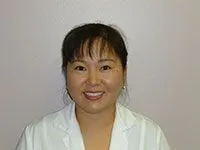 Meet Dr. EJ Stringer DMD
Dr. EJ Stringer! Dr. Stringer has a passion for helping kids achieve and maintain a beautiful, healthy smile for life. She has participated in "Give Kids a Smile Day" and enjoys helping children learn good oral hygiene habits. This program, by the American Dental Association, aims to provide treatments, screenings and education to over 400,000 underserved children in the United States every year!
Meet Dr. Heather Sholander DMD
Treating kids and putting a smile on their faces has always been the goal. For almost two decades Dr. Sholander has been taking care of the dental needs of children and she would love to meet yours.

While helping kids' smiles grow is a major priority, she also wants them to enjoy the process, whether that means talking about their interests, playing games, breaking out in song or helping them express their dental concerns.
What Makes Us the Best Pediatric Dentists in Frederick, MD?
Comprehensive Care
Our childrens' dentists and dental team is dedicated to helping you care for and protect your child's smile. From their first tooth to adulthood, we want your kids to grow up with a healthy smile! Whatever your pediatric dental needs are, we offer pediatric cleanings, regular check-ups, pediatric sealants, tooth extractions, pediatric root canals, and fluoride treatments right here in our Frederick, MD dentist office and our Urbana, MD dental office. We also offer restorative services including fillings, crowns and bonding for kids when needed.
Comfortable Setting
We understand some children are apprehensive about visiting the dentist. Our dentists and staff are diligent to make sure each child is comfortable and at ease. Whether a toddler, kid, or teenager, we take a unique approach to each individual child. Our goal is to keep kids smiling both in the dentist's office and out!
Sedation Dentistry for Toodlers, Kids & Teens
Sedation Dentistry is an option for children who are particularly anxious. Whether it is a simple cleaning or a more involved procedure, sedation dentistry can help children feel relaxed and calm during their dentist visit. Our experienced dentists can talk with you and help you to determine if sedation dentistry is right for your pediatric dental patient. Usually we prefer to not use sedation on kids, but that is a decision that can be made between the parent and the doctors on an individual basis. Our goal is always to keep the child's best interest at the heart of every decision.
Are you looking for a gentle, friendly pediatric dentist in Frederick, MD for your toddler, child or teen? Call PearlFection Dentistry today at (301) 663-5550 to schedule an appointment with one of our award winning dentists who see pediatric patients!
For our other location in Urbana, MD, call (301) 831-8303 .